The Point Lobos Foundation is grateful to accept donations from individuals and groups that would like to support Point Lobos Foundation, but prefer not to receive the benefits of our membership program. All gifts are 100% tax-deductible. Memorials or honorariums can be attributed to a donation and will be recognized in the Point Lobos Magazine.
Sister Anna Voss Fund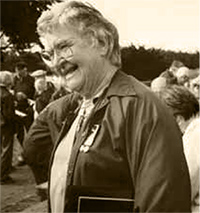 Sister Anna Voss had a lifelong passion for learning and teaching. She held a Bachelors of Science in Chemistry and a Masters of Science in Biology, both from Stanford University. She taught high school and college students in Hawaii and California, creating the statewide science program for all Hawaii Catholic schools. When Sister Anna retired after teaching for 50 years, she brought her passion to her second career as a volunteer at Point Lobos State Natural Reserve. A pioneer for the Point Lobos Docent Association, Anna graduated with the first docent class in 1981 and helped develop the docent-training program and accompanying training materials. Many of those materials are still in use today.
In 2011, Carl and Carol Voss and Dave and Caroline Appling created a memorial fund for Sister Anna. Today, this fund has grown to hold more than $50,000 to support the Point Lobos Docents and programs educating young people at Point Lobos State Natural Reserve. Your support of this fund honors Anna's legacy, her spirit, and her devotion to this very special place. Today, the Point Lobos Docents are a group of 175 highly trained volunteers, working to foster a connection between visitors and our natural world and helping people form a positive, sustainable relationship with their environment. Docents are the backbone of the wonderful interpretive and educational programs found within Point Lobos, acting not only as volunteers but also as visionaries to constantly improve and expand on the educational opportunities offered to visitors. In 2012, volunteer docents provided the equivalent of 10 full-time positions at Point Lobos. The following programs are relatively new to Point Lobos and inspired or developed by docents. Experiencing Point Lobos is a program for local fourth graders that helps to support and achieve California Science Content Standards. With two components, a presentation provided by a docent at the school prior to the visit, and a field trip of Point Lobos afterwards, the program instills an enjoyment, appreciation and awareness of our natural environment. Schools receive a grant covering the cost of transportation, removing any fees associated with the program and allowing all students to participate. More than 1,000 students from low-income schools in Gonzales, North Monterey County, Salinas and Soledad visited the park last year as part of this program, some of who had never seen the ocean.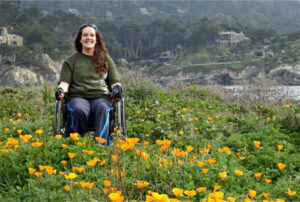 Easy Access Adventures was created one year ago after docents recognized the need for a different interpretive format for people who are elderly or living with physical or developmental disabilities. Rather than leading a walk, which is challenging for a group of people who move at very different paces, docents station themselves at key locations throughout a trail with interpretive equipment like specialized scopes and pelts. This allows visitors to move through the trail at a comfortable speed, often with the help of a caregiver, and spend as much time as they would like at any specific station. In the first year, Easy Access Adventures has served more than 900 people.
We are currently working to purchase an electric vehicle for another new program, the Mobile INTerpretation The goal of the MINT Station is to add services to the public by allowing docents to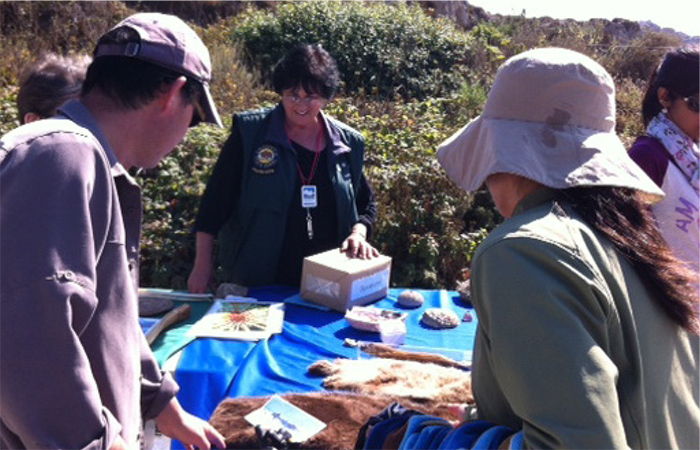 interact with in the Reserve using a wide selection of interpretive resources. MINT locations might be determined by seasonal events like nesting season at Bird Island or the blooming of spring wildflowers, or it may be staffed in conjunction with special events like school group visits. In testing over the past two summers, we know to expect 100-150 visitors during each 2-hour shift.
Sister Anna would be proud of the incredible contributions that the Point Lobos Docents are making at the Reserve. Please ensure that her legacy lives on by making a gift to the Sister Anna Voss Fund today.
Carmel River State Beach Fund
The Carmel River State Beach fund exclusively supports habitat and trail restoration projects at Carmel River State Beach and provides a funding stream for a volunteer coordinator position to focus work in the beach area designated in the Carmel Area General Plan that encompasses Carmel River Beach, Middle Beach, and Monastery Beach.
This opportunity to protect a significant section of our precious coastal treasure was made possible through the dedication and commitment of Mike and Ellen Turbow, who recognized the need to expand the reach of PLF's work to include the connected ecosystem along the three beach areas.
All gifts made to the CRSB fund in memory or in honor of a loved one will be listed in the Point Lobos magazine.
Tributes
Tributes are a special way to honor a loved one. Tributes can be made to the Point Lobos Foundation and will be recognized in the Point Lobos Magazine.